Essidy
Regular price
Sale price
$89.00 AUD
Unit price
per
Sale
Sold out
Melt into delight with our unique massage candles, hand-crafted from pure, natural plant ingredients and Currumbin Valley beeswax, paired with an opulent blend of aromatherapy-grade essential oils, and housed in a stunning porcelain vessel, purposefully designed for safe pouring.
This special value gift pack includes one of each of our Energise, Romance and Relax aromatherapy massage candles. 

Usage

A natural massage candle specifically designed so that once it's melted, the liquid turns into a warming, silky smooth massage oil that deeply nourishes and hydrates the skin.

The candle has been formulated to melt at a low temperature (of 40c) to ensure safe use that won't burn your skin.

Small (60g) - 2-3 Full Body Massages

Regular (120g) - 7-9 Full Body Massages
Directions

LIGHT - Light the candle for 30 minutes, allowing the wax to liquify into a warm pool of skin goodness.

EXTINGUISH - Blow out the flame and allow wax to slightly cool for 10-30 seconds.

POUR - Drizzle the nutritious blend of warmed oils all over the body.

MASSAGE - Rub the melted body oil into the skin in light circular motions.

** Our hand blended massage candles are formulated to a low melt point of 40°C (similar to a warm bath), however please ensure safe temperature before use.
Benefits

Skin

The nourishing massage candle from Essidy is made with a fast absorbing, non-greasy blend of soy wax and beeswax, known to help protect and replenish the skin with a lingering soft touch. It's enriched with almond oil known for its ability to help improve skin health and shea butter for its anti-inflammatory properties that could help soothe and calm the skin. 

Body

Massage therapy may help to; reduces stress, increasing relaxation, reduces muscle soreness, release tension, improve circulation, enhances your mood and improves sleep.

Mind + Soul

Aromatherapy is believed to influence our emotions, moods, and behaviours. We create beautiful aromatherapy blends using premium essential oils to engage the senses and provide a soothing, sensual massage experience.
Free From

Our massage candles are free of; toxic ingredients, lead, zinc, paraffins, parabens and palm oil.

100% hand poured + cotton wick + proprietary natural wax blend.
Packaging

At Essidy we are committed to keeping all packaging for our Australian hand-made massage candles plastic and waste free.

The super nourishing formulas are housed in beautiful black ceramic jars complete with pour spout, they can be re-used and re-purposed once used. They feature a matching ceramic lid to ensure product longevity, prolonged fragrance intensity and to keep the product clean and contaminant free.

The jars are kept safe in Essidy branded boxes, reinforced for extra protection and constructed of recyclable cardboard and soy-based inks.

All items are shipped in recyclable cardboard boxes and eco-mailers (100% compostable, plant-based packaging).
Full Ingredient List

Proprietary massage candle blend: Shea (Butyrospermum Parkii) Butter, Australian Beeswax (Cera Alba), Soybean (Glycine Soja) wax, Almond (Prunus Amygdalus Dulcis) Oil.

Fragranced with aromatherapy essential oil triple-scented blends:

Romance Blend  - Ylang Ylang, Vanilla, Patchouli, Sandalwood.

Relax Blend - Lavender, Bergamot, Frankincense.

Energise Blend - Wild orange, Lemon, Jasmine.

***Due to seasonal conditions and availability of ingredients formulations can vary slightly from time to time. For the most up to date list of ingredients please refer to the product packaging.
Share
View full details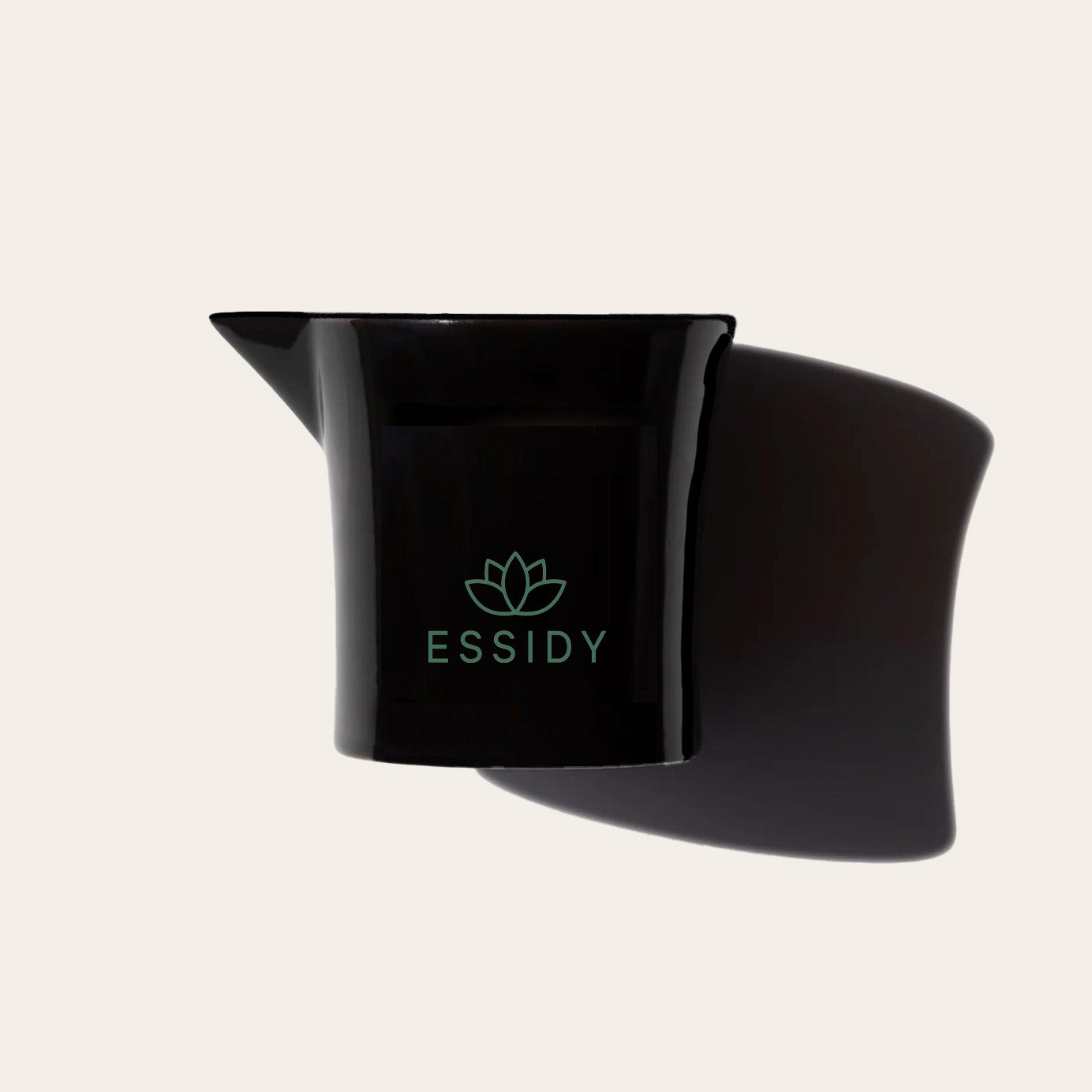 Skin nourishing ingredients...
Bees Wax

Used to deeply nourish and moisturise the skin with no lingering residue.

Shea Butter

A powerful anti-inflammatory known to soothe and calm skin.

Soybean Oil

Rich in essential fatty acids, known to help repair the skin.

Almond Oil

Rich in vitamins and minerals that are known to improve skin health.